Downloading Microsoft Edge with Chrome or Firefox Is Quite a Challenge Now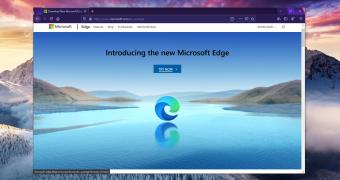 Microsoft Edge has been reinvented for the modern world, so it's now based on the Chromium engine, the same one that's powering Google Chrome and a bunch of other browsers out there.
At the same time, Edge has become cross-platform, which means it's no longer exclusive to Windows 10 and it's also available on Windows 7, Windows 8, Windows 8.1, and macOS. A Linux version is also in the works, and a preview build is expected this month.
Needless to say, users on all these platforms can download the new Microsoft Edge manually, though Microsoft has also pushed it via Windows Update on Windows systems. But on the other hand, just like any other browser, anyone can simply head over to the official page and download the installers for whatever operating system they are running.
But as it turns out, downloading Microsoft Edge with Google Chrome and Mozilla Firefox (and possibly other browsers too) has become quite a challenge lately, as Microsoft has changed the download… (read more)
Remember to like our facebook and our twitter @geekchrome.
Other pages you might like: Chromebook apps, Chromebook games & Gmail Add-ons.