Google Announces Major Google Chrome Extensions Privacy Update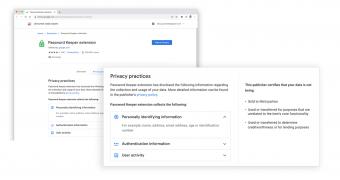 Extensions have become an essential part of the experience with modern browsers, and Google Chrome is the living proof in this regard.
The Chrome Web Store has grown so much it's now one of the first go-to places for those who installed Google Chrome, and the living proof in this regard is the number of downloads that some of the most popular extensions actually recorded.
But as many learned the hard way, extensions themselves can pose a threat to your data, especially because some can read all the information that you load in the browser, and this sometimes includes sensitive details.
Because of this approach, Google has decided to roll out a new privacy requirement for developers, making it mandatory for each extension to come with clear information on the data that is collected when installed in the browser.
"Starting January 2021, each extension's detail page in the Chrome Web Store will show developer-provided information about the data collected by the exte… (read more)
Remember to like our facebook and our twitter @geekchrome.
Other pages you might like: Chromebook apps, Chromebook games & Gmail Add-ons.