Google Blocks YouTube Picture-in-Picture on iPhones Unless You Pay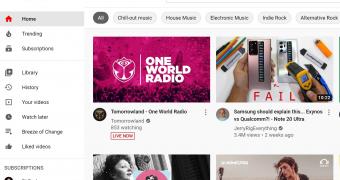 iOS 14 is now available for download on supported iPhones, and one of the highlights is a Picture in Picture mode that allows users to watch a video or continue a FaceTime call while doing something else on the device.
Needless to say, PiP modes on mobile devices aren't necessarily new, but in the Apple world, this is quite a major addition.
And with iOS 14, it was actually possible to use Safari to watch YouTube videos in PiP mode, essentially keeping the video on the screen while running another app on the iPhone.
Of course, this was quite good news for users but it wasn't for Google, with the search giant only allowing the Picture in Picture mode for paying subscribers. And starting this weekend, the same thing happens on iPhones too.
In other words, unless you pay for a YouTube subscription, there's no way to use the PiP mode on your iPhone, as the Safari method has been blocked silently by the search giant.
Still possible, with a catch
You… (read more)
Remember to like our facebook and our twitter @geekchrome.
Other pages you might like: Chromebook apps, Chromebook games & Gmail Add-ons.