New Google survey: U.S. government workers want more choice in tech, worry about cyber attacks
Over the past four years, I've traveled the world meeting with current and potential Google Cloud customers and listening to their thoughts about the cloud and its future. It's my team's job to turn those thoughts into reality. What I have consistently heard is that while the cloud was once heralded as a flexible, elastic, pay-as-you-go technology, today it is at risk of being co-opted by legacy vendors who want to bring back 1990s-style restrictive software licensing, such as erecting barriers to interoperability and limiting customer choice with tying.
These licensing tactics can reduce customer choice and create a "monoculture," or single-provider approach — the opposite of multicloud — and this is particularly pronounced in the U.S. public sector. That monoculture, which is estimated to skew up to 85% towards one vendor, Microsoft — in office productivity software, creates real U.S. national security risks, causes taxpayer waste, and stifles competition in the marketplace.
"All organizations have the right to build a best-in-class, interoperable environment from a diverse set of technology vendors. This approach creates a stronger security defense requiring cyber criminals to attack a diversified web of technology rather than an easy, homogenous target," said Karan Sondhi, chief technology officer, Public Sector, at the cybersecurity firm Trellix. "Vendors often sell customers on bundling to eliminate competition and then increase prices once they are locked in. An open environment drives down the total cost of ownership for customers by ensuring a high level of competition between vendors."
To better understand the impact of this monoculture in the U.S. workplace — with a special focus on the U.S. public sector — Google Cloud commissioned its second-annual survey conducted by Public Opinion Strategies of 2,000 working Americans nationwide and an additional 504 in the Washington, D.C., metro area. Of those 2,504 people surveyed, 411 are workers employed by federal, state, or local governments across the country. (To read last year's survey, click here.)
Users want choice to help do their jobs better
According to our survey, 76% of all workers nationally and 82% of workers in the D.C. metro area primarily use Microsoft products and services at work, like Word, Outlook, Teams, and OneDrive. Those numbers are even higher among government workers nationally (84%) and in the D.C. metro area (92%). Microsoft has been selling to the U.S. government for a long time, so this prevalence is unsurprising.
Despite this, workers surveyed in the study nonetheless demonstrated a desire for different technology tools. In fact, 59% of government employees nationally, and an identical percentage from the D.C. metro area who use Microsoft at work, want a choice to use products other than Microsoft, according to the survey. Nearly half of workers believe there are other products and services that would allow them to do their job better. That number is even higher among government workers nationally (54%) and in the D.C. metro area (55%).
As for one potential reason for this belief, about 30% of government workers in the D.C. metro area and close to half across the nation (46%) believe that Microsoft products are antiquated.
Concerns about cybersecurity
Survey respondents also reported a strong overall concern for cybersecurity. For example, 69% of surveyed working adults nationwide believe that in the next few years the federal government is likely to be a victim to a cyberattack in which the country's critical infrastructure will be attacked by a foreign adversary.
Survey respondents also cited concerns that the technology tools they use at work are not secure. These concerns are reinforced by legacy providers' prominence in CISA's Known Exploited Vulnerabilities Catalog and may be partially rooted in employees' own experiences. In this survey, more government workers nationally reported that their work was disrupted at some point in their careers by cyberattacks (22%) than those in the private sector (14%). Both nationally and in D.C. metro (19%), nearly one in five government workers have experienced cybersecurity attacks, according to the survey.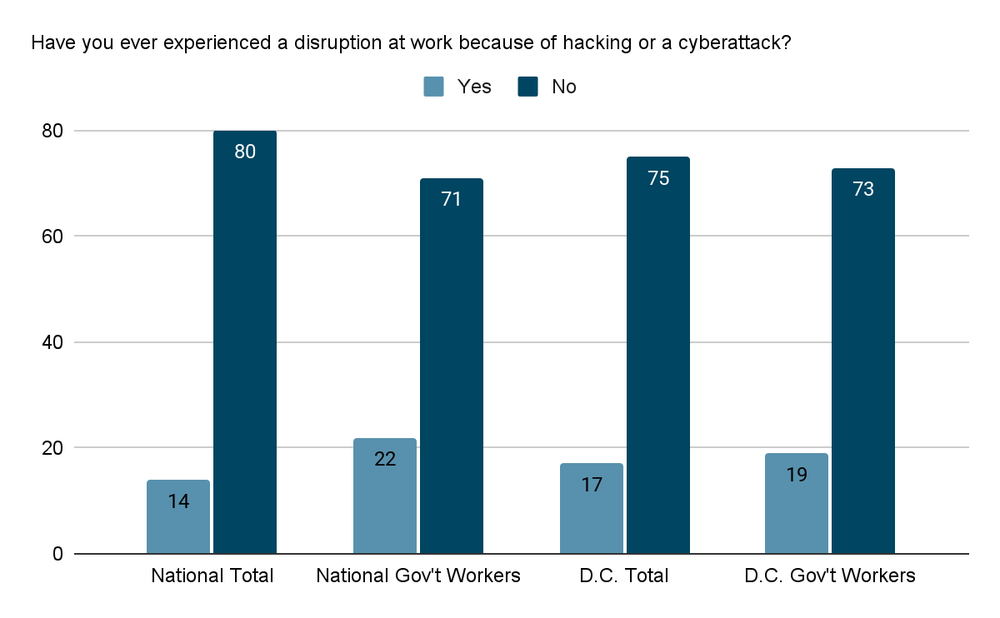 Those personal experiences with cyberattacks also appear to inform their perceptions of the technology tools they use. One in three government workers in the D.C. metro (36%), and nearly half nationally (47%), are more likely to believe Microsoft products and services are vulnerable to cyberattack.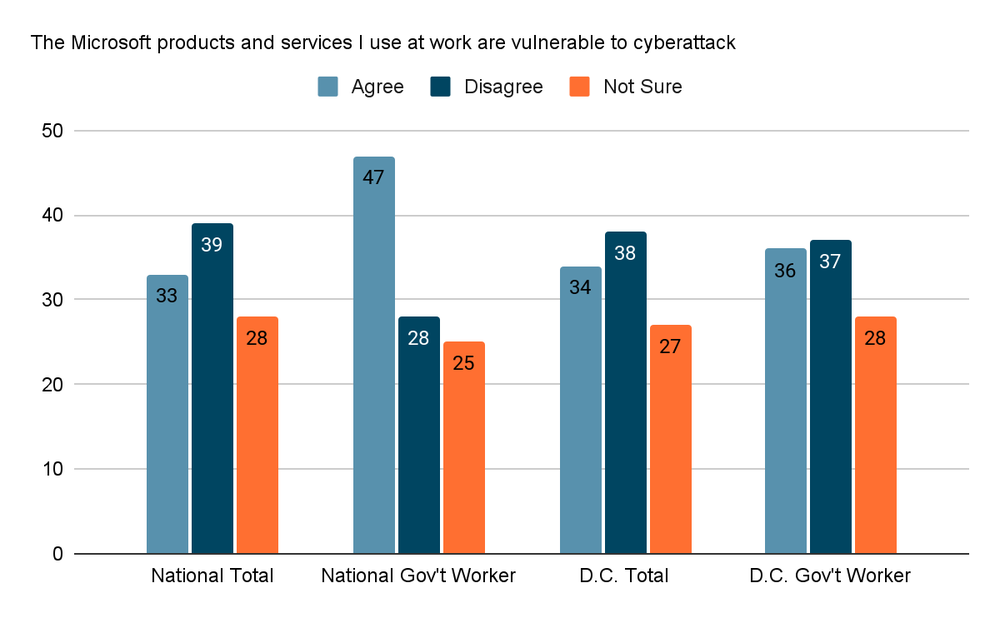 Interestingly, more than half of government employee respondents cite the federal government's reliance on Microsoft products as making the government more vulnerable to cyberattack.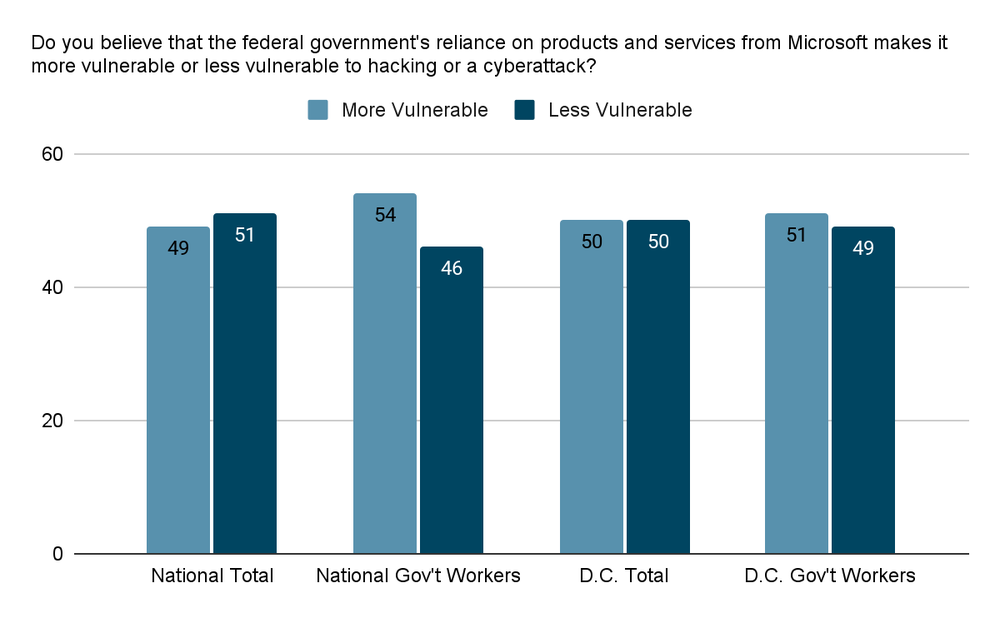 Survey respondents across the board want action because of these cyber issues. They expressed strong support for holding technology firms accountable for repeated breaches in the federal government.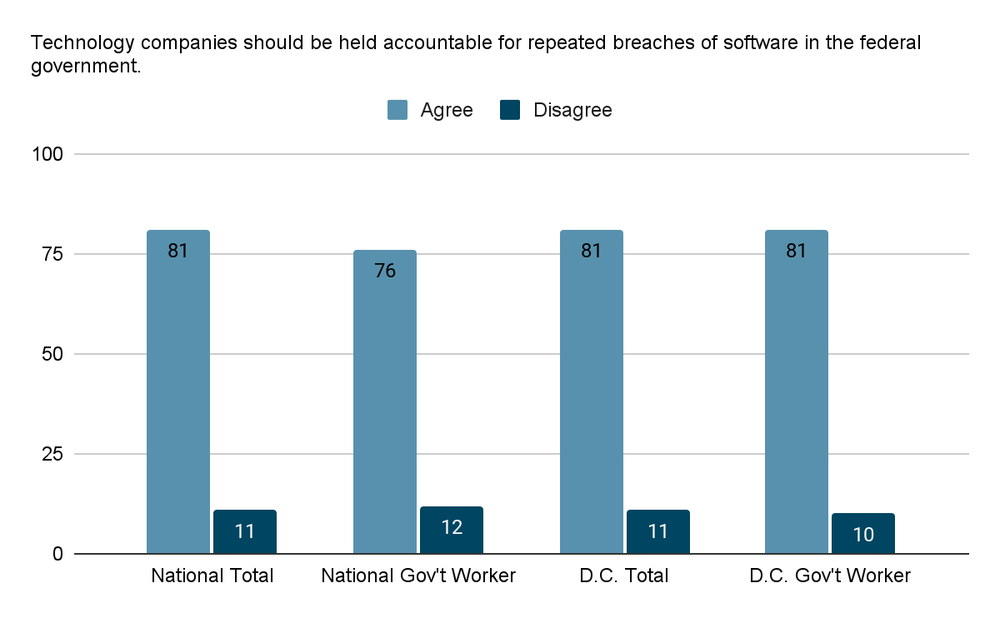 This mirrors feedback from senior leaders inside the U.S. government as well. For example, senior Defense Department officials have raised concerns about overreliance on Microsoft software in light of persistent and widespread vulnerabilities. Lawmakers have called for investigations into Microsoft's cybersecurity practices, and questioned reliance on a single software vendor to ensure competition between vendors in the future.
Monoculture can harm competition
From the 2021 survey to now, Microsoft Teams usage experienced significant growth, according to respondents from the survey. However, nearly all of it came at the expense of Zoom, where reported usage dropped by at least 10 points across most of our respondents. This may be a signal of how certain licensing practices can damage competition, as Zoom earlier this year has raised issues with how Microsoft locks its customers deeper into its own ecosystem using Teams.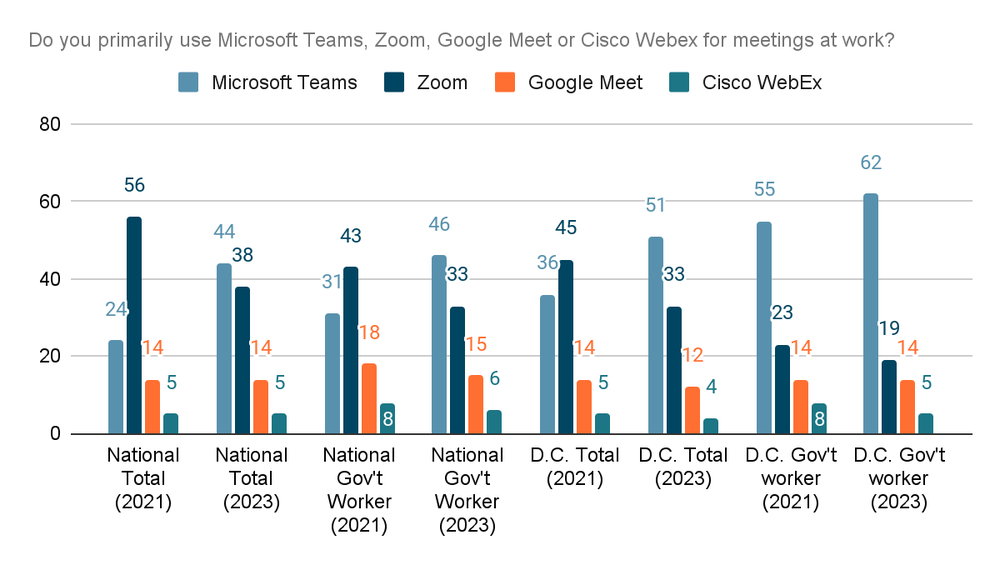 Restoring choice to help create a level playing field
A thriving, competitive digital ecosystem allows customers to choose from many companies' interoperable technologies. Multicloud and multi-vendor environments can create larger and more complex surfaces that can frustrate and slow the efforts of hackers. Google believes customers should use technology services because of their quality, not because they are locked in. As our survey reported, workers want this, too.
The cloud industry is currently at an inflection point between legacy software constructs — restrictive licensing, closed ecosystems, and creating anticompetitive barriers — and the cloud's original promise and potential. It's time for a level playing field that can bring more diversity and choice to government IT. All technology customers — and especially those in government, who regularly handle sensitive data — should have the freedom to choose the cloud provider that works best for their missions.
Remember to like ourfacebookand our twitter@geekchrome.