What's new in Assured Workloads: Japan regions, move analysis capability
Assured Workloads is Google Cloud's solution that allows our customers to run regulated workloads in many of our global regions without the need for sector-focused isolated regions or infrastructure. It can help our customers address their security and compliance requirements, without compromising on cloud innovations and security capabilities.
We are excited to announce new capabilities in Assured Workloads to help organizations more easily achieve and maintain compliance with relevant global regulatory requirements:
We have expanded Assured Workloads availability to our Japan regions.
A new analysis tool — now available to all Google Cloud customers — that can identify potential policy violations that need to be addressed before migrating resources to Assured Workloads
Assured Workloads Japan Regions now generally available
We endeavor to make it easier for customers to configure regional policies and required controls for regulated workloads in our cloud regions where they choose to operate. Continuing our practice of delivering region-specific compliance offerings, we are thrilled to announce the general availability of Assured Workloads Japan Regions. Assured Workloads Japan Regions offers advanced data residency capabilities in our two cloud regions in Japan — Tokyo (asia-northeast1) and Osaka (asia-northeast2), Access Transparency and Approval for all supported services, and strong cryptographic control of all customer data at-rest stored in the region.
You can learn more about this new service by viewing our Assured Workloads session at Google Cloud Next 23 Tokyo.
Making it easier to identify potential compliance violations before migrations
All regulated cloud customers who need to ensure that existing cloud projects are not in violation of compliance requirements before migrating them to an Assured Workloads environment now can use our new move analysis capability. For example, if you have a project you want to move to an Assured Workloads folder configured for FedRAMP High, you can proactively address any potential compliance violations before moving the project.
Move analysis is available through an Analyze Workload Move API that compares controls applied to resources in a project with the compliance program supported by Assured Workloads. It generates a findings report that highlights unsupported products, differences in Organization Policies, and resources violating data residency requirements. These findings can help customers proactively resolve compliance violations before moving the project into the regulated boundary, saving time and money.
This new capability:
Provides analysis of a move of projects into new Assured Workloads regulatory compliance programs or movement of existing Assured Workloads projects between compliance programs.
Supports resource-level analyses and project-level analyses to inform users exactly which resources in the project conflict with which controls.
Resource location analysis identifies if your source project contains resources that are located in a disallowed location.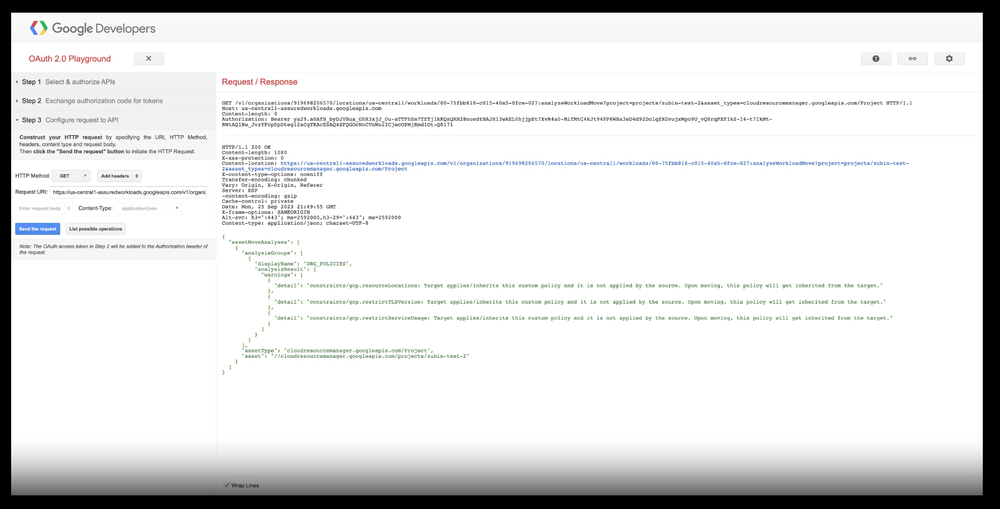 You can learn more and get started with move analysis by following this guide.
How to get started with Assured Workloads
Google Cloud customers can get started with a free trial of Assured Workloads to test these new controls and capabilities. You can learn more about Assured Workloads by reviewing these resources:
Remember to like ourfacebookand our twitter@geekchrome.