YouTube Now Offers a Web App When Loading the Website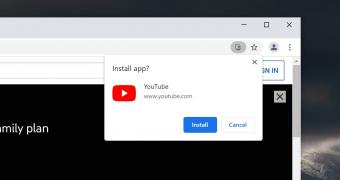 YouTube is the most recent Google service providing users with a web app, as the search giant is becoming more and more committed to offering all of its products as PWAs.
As reported by ChromeUnboxed, some users who load the official YouTube websites are now being asked to install the YouTube app in their browsers.
It's believed this feature is now rolling out to all users out there, though in my case, the PWA prompt was only shown in Google Chrome – however, you can also install the PWA in other browsers manually, including Microsoft Edge.
Offline support incoming?
PWAs seem to be the next big thing on the web, and at one point, they've been considered the only way to deal with the lack of apps on some platforms.
Microsoft itself bet big on web apps for dealing with the lack of apps on its modern operating systems, though right now, the debut of the Chromium Micr… (read more)
Remember to like our facebook and our twitter @geekchrome.
Other pages you might like: Chromebook apps, Chromebook games & Gmail Add-ons.