How to print anything from your Chromebook
Hello everyone, on this post you will learn how to print files and documents on your Chromebook. The guide is mostly straight forward and we have included some photos and even a video for those of you who are more visual like myself. Because Chromebooks run Chrome OS, setting them up to print your stuff is a bit different, not necessarily harder or complicated but a bit different, below you will see what I mean.
Setup a printer on Chromebook
You can print from your Chromebook using most printers old and new that are able to connect to Wi-Fi or a wired network. I highly recommend though that you first simply use a USB cable to connect your printer to your Chromebook. When you use a cable, you'll see a notification that pops up on your screen, usually the bottom right or wherever your taskbar is located. You then follow the instructions from the pop up. In case you were wondering, your printer doesn't need to be connected to Wi-Fi if it is directly connected to your Chromebook via a USB cable we mentioned earlier.
Add your printer to your Chromebook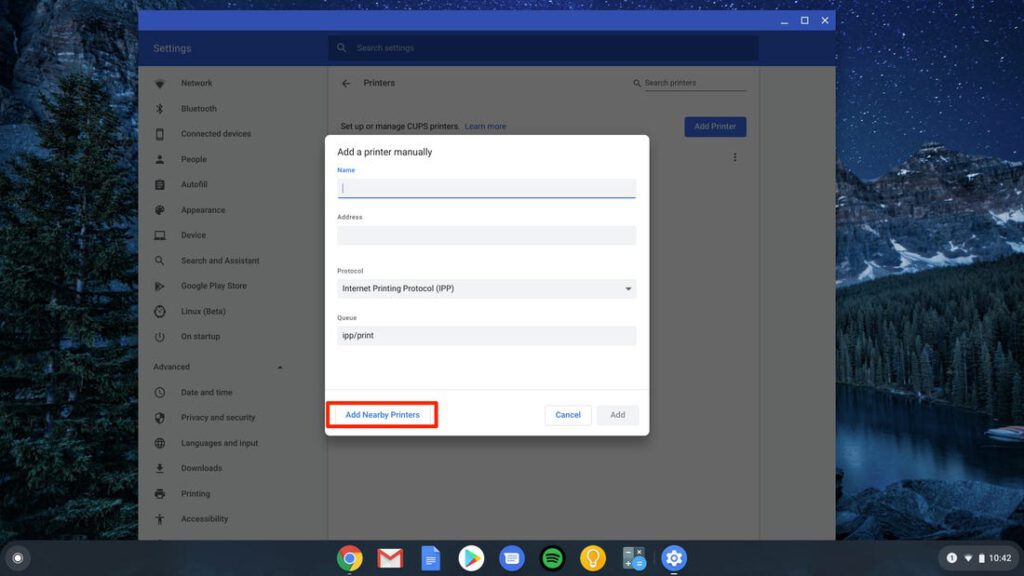 At the bottom right, select the time.
Select Settings.
At the bottom, select Advanced.
Under "Printing," select Printers.
Under "Available printers to save," next to your printer, select Save.
Check that your printer appears at the top, under "Saved printers."
NOTE:
If your printer doesn't appear, try turning your Chromebook's Wi-Fi off and on.
Connect your printer to the internet
Turn on your printer.
Connect your printer to a network. If you need help, follow your printer manufacturer's instructions.
If you haven't yet, turn on your Chromebook and sign in.
Connect your Chromebook to the same network as your printer.
Print a page from your Chromebook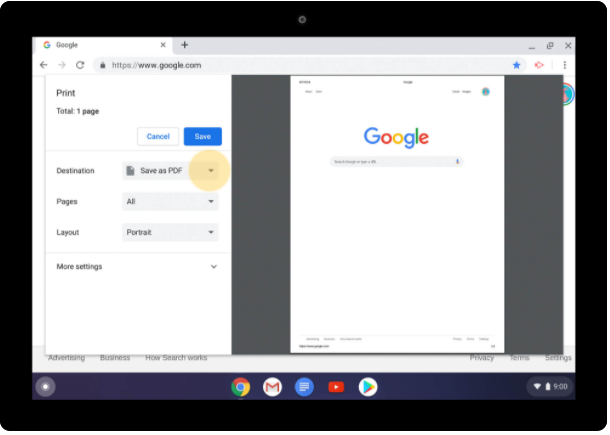 To print the page, image or document you're viewing, press Ctrl + p.
Next to "Destination," select the Down arrow
Select See more…
Choose your printer. Tip: Some printers will automatically show up on this list. If you don't see your printer on the list, you can select Manage.
Select Print.
That should do it! If for some reason it doesn't work because your printer didn't show up under available printers, check the steps below: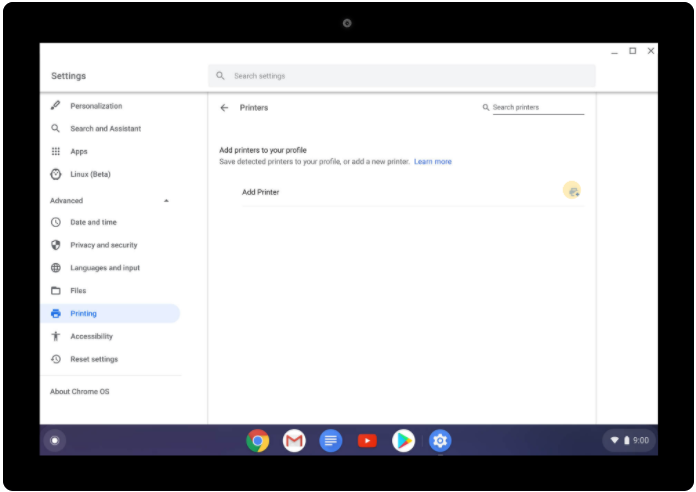 At the bottom right of your taskbar, select the time.
Select Settings.
At the bottom, select Advanced.
Under "Printing," select Printers.
Next to "Add printer," select Add printer.
Enter your printer information:

Name: Enter any name.
Address: Enter your printer's IP address.
Protocol: For most printers, the supported connection protocol is IPP.
Queue: For most printers, the queue is ipp/print.

Select Add.
Printing on a Chromebook Video Tutorial
If you enjoyed this article, you will might also want to read how to uninstall extensions or apps from your Chromebook.