Download Drumbit for Chrome
Drumbit for Chrome, a fantastic music app that allows you to unleash your creative side. Before we dive into the app, how are you all doing today? I hope you're having a fantastic day so far. My week has been good, except for a minor hiccup this morning where I got into a heated argument with some people. But, let's move past that and lets focus on the topic at hand lol, eish! Well let me just say, I don't like disrespect!! Anyway…Drumbit is a must-have app for music fans and drum enthusiasts alike. With its easy-to-use interface and vast array of drum and beat patterns, you'll be creating your own beats and rhyme patterns in no time. This app is perfect for anyone who loves making music, even if you have no prior experience. The app is also great for anyone who just loves drums and wants to experiment with different beats and patterns.
I've personally used Drumbit and I must say, I am thoroughly impressed with its capabilities. The app is intuitive, and I was able to create my own beat patterns within minutes of using it. The variety of drum sounds available is amazing, and I was able to create some unique and creative beats that I am proud of. I also appreciate the ability to adjust the tempo, volume, and other parameters to create the exact sound I was looking for.
Install Drumbit on Chrome
Download Drumbit as Chrome Extension
What Is Drumbit?
Drumbit is a powerful and versatile drum machine that allows you to create, save, and edit your own unique rhythm patterns. With its user-friendly interface, you can choose from various drum kits and create beat patterns that you can record as audio files.
Drumbit Features:
Many different rhythm patterns
Many drum kits to choose from
Many room effects for added depth
Many demo patterns for inspiration
The ability to save patterns in a file
Records and saves as a WAV file
Copy and paste functionality between patterns
A swing factor for a more dynamic feel
Volume control for each track
Option to change the pitch of the sample
Left-right distribution (panning)
Compressor, low-pass, and high-pass filters
Start-up with default settings for convenience
Drumbit Screenshots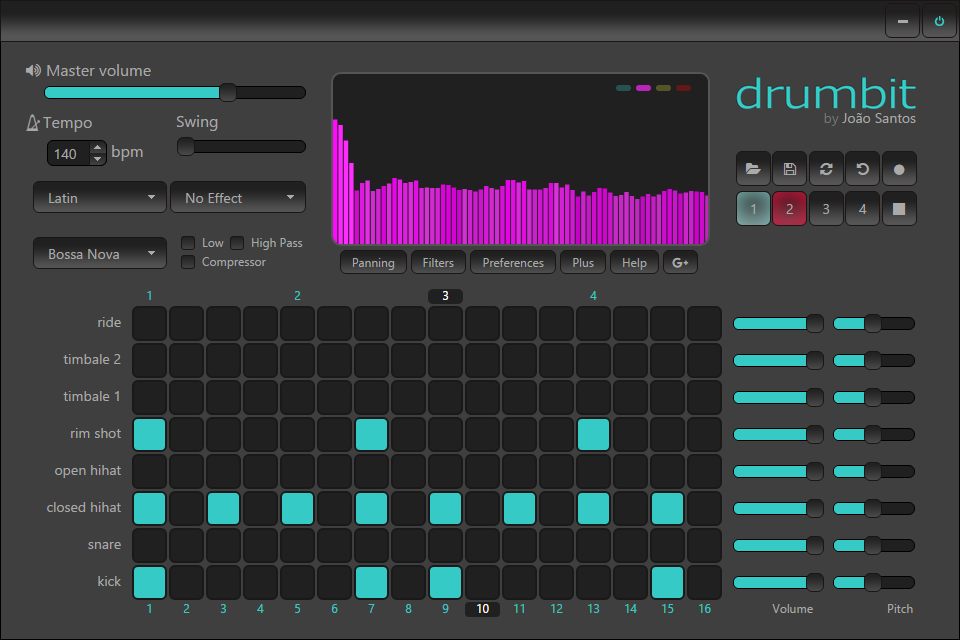 Quick Links: Download Clipchamp for Chrome | Download Writer for Chrome